Tennis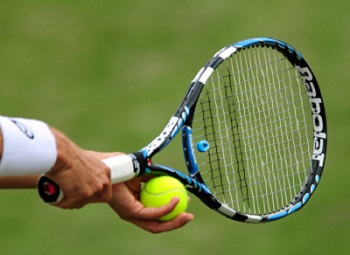 All of our multi-lingual trainers, practitioners and coaches are fully licensed and insured, guaranteeing an organised and safe teaching environment.
At our club tennis is an option even for the smallest ones of the family, as we offer classes for children from the age of 4 and now even have a programme called "Toddler Tennis."
For our teenagers and juniors we have individual, group, and special team training modules (guests are always welcome to join.)
Adult tennis is covered with a large variety of programmes from cardio tennis, doubles, round robins, and individual lessons. If you wish to play amongst yourself, you can also just rent a court. Racquets are also available for rent. Please read further on this site for PRICES and PROGRAMMES.
Algarve Tennis and Fitness Club is a member of both the Portuguese Tennis Federation (Federação Portuguesa de Ténis) and the Portuguese Padel Tennis Federation (Federação Portuguesa de Padel). The club features 2 acrylic hard-courts, 2 artificial grass courts, a synthetic clay court and 2 state-of-the-art padel tennis courts.
ATF's tennis department is striving to create the concept of "tennis for all."
This means, whether you are a total beginner or a competition player, a young junior or a senior player, you can find a suitable tennis programme catered to you here with us.

We have a solid social tennis scene, which you can take part in either as a club-member or as a guest. There is something going on almost every day.

We offer tennis lessons on a private, semi-private or group basis. Our group-lessons do not exceed 6 players but are often held to just 3-4 players.

Our ATF Academy is the training ground for competition players,- players who train on a daily basis and part-take in competitions.

As a club member and as a guest, you can also just rent a court and play! Club-Members play for free.

ATF often arranges club tournaments for various levels of players. These tournaments are about FUN & FRIENDSHIP, but this does not mean that they are not also competitive...!
ATF also part-takes in Interclub, regional, and national tournaments, which interested parties can sign up for.

In our Pro-Shop, you can either RENT or BUY equiptment such as rackets, shoes, apparel, strings, grips, and much more.


TENNIS FOR ALL – COME JOIN THE FUN!